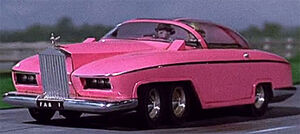 FAB 1 is Lady Penelope Creighton-Ward's pink six-wheeler Rolls-Royce in the TV series Thunderbirds.
The driver, most often Lady Penelope's chauffeur, Parker, sits in a central position at the fron of the passenger compartment, which is covered by a bulletproof bubble canopy. Brains, inventor of the other Thunderbirds machines, modified the car to include heavy artillery hidden behind the radiator grille and the front and rear lights, although on one occasion grappling hooks are shot out of the rear lights. It also has extendable tyre studs for better traction, a smokescreen and oil-dispensors and hydrofoils or outriggers for travelling on water or snow respectively.
Full-sized car
Edit
The car in the TV series was only big enough to be driven by puppets, but a full-size vehicle was built on a Bedford Duple Vega coach chassis to transport Gerry Anderson, the creator of
Thunderbirds
, and his wife Sylvia to the London premiere of
Thunderbirds Are GO
. However, the vehicle broke down and Gerry and Sylvia had to arrive by taxi.
Rolls-Royce were less than impressed with the full-sized car and intended to buy and destroy it, but they only succeeded in removing the genuine Rolls-Royce grille, which was replaced by a replica. The car survives to this day, and lived in the Cars of the Stars Museum in Keswick, Cumbria, until the museum's closure in July 2011.  The car is now in "The Dezer Collection Museum" in North Miami, in their entertainment vehicle section.
Community content is available under
CC-BY-SA
unless otherwise noted.