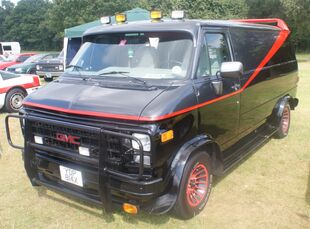 The black and metallic grey GMC Vandura van used by the A-Team, with its characteristic red stripe, black and red turbine mag wheels, and rooftop spoiler, has become an enduring pop culture icon. One of the original six vans used for the show is displayed in the Cars of the Stars Motor Museum in Keswick, northern England. The GMC Vandura used on the A-Team movie was also on display at the 2010 New York International Auto Show.
Early examples of the van had a red GMC logo on the front grille, and an additional GMC logo on the rear left door. Early in the second season, these logos were blacked out, although GMC continued to supply vans and receive a credit on the closing credits of each episode.
It is a common error that the van is said to be all-black, whereas in fact the section above the red stripe is metallic gray; this error was even continued on most toy models of the van. The angle of the rear spoiler can also be seen to vary on different examples of the van within the series. Additionally, some versions of the van have a sunroof, whereas others, typically those used for stunts (and including the one displayed in the aforementioned Cars of the Stars Motor Museum) do not. This led to continuity errors in some episodes, such as in the third season's "The Bells Of St. Mary's", in a scene where (the double of) Face jumps from a building onto the roof of the van. There is clearly no sunroof. Moments later, in an interior studio shot, Face climbs in through the sunroof. Also, in many stunts where the van would surely be totaled, other makes have been used, such as a black Ford Econoline with red hubcaps painted to simulate the original red turbine mag wheels.
A number of devices were seen in the back of the van in different episodes, including a mini printing press ("Pros and Cons"), an audio surveillance recording device ("A Small And Deadly War"), and Hannibal's disguise kits in various episodes.
In Ready Player One, the A-Team Van was seen during the race for the Copper Key.
Gallery
[
]