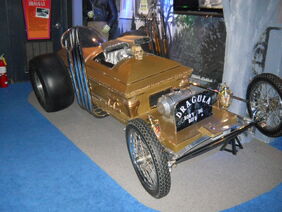 The Dragula
is a custom made drag racer created for the TV series The Munsters by
George Barris
. The original car was housed in a Planet Hollywood in Atlantic City, New Jersey, where it hung from the ceiling This Planet Hollywood location is now closed according to Planet Hollywood's website the car is now housed at the Volo Auto museum in the town of Volo,IL. 1 hour north of Chicago. Volo Auto Museum had the car completely restored in 2011. #2 is in Atlantic City in a museum. #3 is in Gatlinburg, Tennessee at the star cars museum, and there is no motor or trans or rear end in that car. #4 is owned by Ricky DeBanardo in New York. He is opening a museum some time next year. He is using it at car shows all the time as he loves to drive it.
Community content is available under
CC-BY-SA
unless otherwise noted.