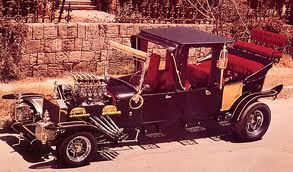 The Munster Koach was a custom built car made by George Barris for the TV series: The Munsters. It was custom built out of three Model T Ford bodies. It appeared alongside The Dragula in The Munsters.
The Munster Koach is the main family car of the Munster Family. It was made by George Barris in 1964.The cost to build the first one was $18,000.00. It has "blood red" interior and Gloss Black Pearl paint. There was no skull radiator cap on the Munster Koach in the 60s. Only later did the Munster Koach get a skull cap. Both reproduction cars have been restored, but the original has not. It took 500 hours to hand form the ornate rolled steel scrollworks. The front end had a dropped axle, split radius rods and T springs. Its design featured a custom hearse body. The engine was a 289 c.i. Ford Cobra from a 1966 Mustang GT. It was built with Jahns high compression pistons, 10 chrome plated Carter carburetors, an Isky cam, and had a set of Bobby Barr racing manifold headers. It has a three speed manual transmission.Tom Daniel's original drawing of the Munster Koach had it blown with a hood scoop and thin round disc lights. George Barris chose the ten carb set up with the ten air horns and lantern lights.A plastic model kit of the "Munster Koach" was produced by AMT during the TV series, and has been reissued several times since then. Johnny Lightning and Ertl Racing Champions also produced a 1/64th scale die-cast model of the car and diamond select is in the production stage. George Barris even commissioned a copy of the coach in 1986. The original Munster Koach car is on display in the Cars Of The Stars Motor Museum in Keswick, England.The studio gave George Barris 21 days to complete the koach.The Koach was made from 3 Model T bodies and is 18 feet long.To accommodate the five members of the Munster family and meet their specific requirements Barris used a 133 inch frame. Each member wanted a compartment so a fiberglassed 1927 model "T" body was grafted into a six-door touring roadster with three compartments including a laboratory for Grandpa Munster and a hansom cab rumble seat for Eddie.Optional goodies that were added to the interior for the Munster's pleasure included, a Muntz stereo tape recorder, Sony TV, and two antique French telephones. A special Autolite electrical system was needed to make these extras operative.The Munster koach can reach a top speed of 150 M.P.H. (0-45 in 7.2 seconds, 0-60 in 10 seconds, 0-80 in 15.4 seconds)
Community content is available under
CC-BY-SA
unless otherwise noted.